Mason-Dixon Line
somerset | Meyersdale, PA Mile 20.6
Interpreting the Mason and Dixon Line
The Mason and Dixon Line Park was dedicated on June 20th. 2014. The granite blocks that spell Mason and Dixon provide the perfect place for taking a rest and drinking in the scenery and learning more about the significance of the Line. Why is the line at such a sharp angle, many trail users have wondered. Well, because that's where it is!
The Mason and Dixon Line was a high priority GAP interpretative site. When the trail was completed at the Pennsylvania/Maryland border, a simple sign noting the two states was installed. Trail users enjoyed being photographed with a foot in each state.
To tell the story of the border, the National Park Service made the lead grant for interpretation in 2012. ATA representatives researched Charles Mason and Jeremiah Dixon, met with National Park Service interpretive specialists, and worked with the Mason and Dixon Line Preservation Partnership to develop an engaging mini-park with accurate information. Mason and Dixon accomplished a monumental task that laid the groundwork for land development in both Pennsylvania and Maryland.
Acclaimed surveyors, they used their era's best instruments, and their work proved remarkably accurate demonstrated by comparison to a survey that was done on March 19, 2011 by the Mason and Dixon Line Preservation Partnership, Todd Babcock and Pat Simon. All working on the project agreed the site should be interactive to encourage visitors to explore it.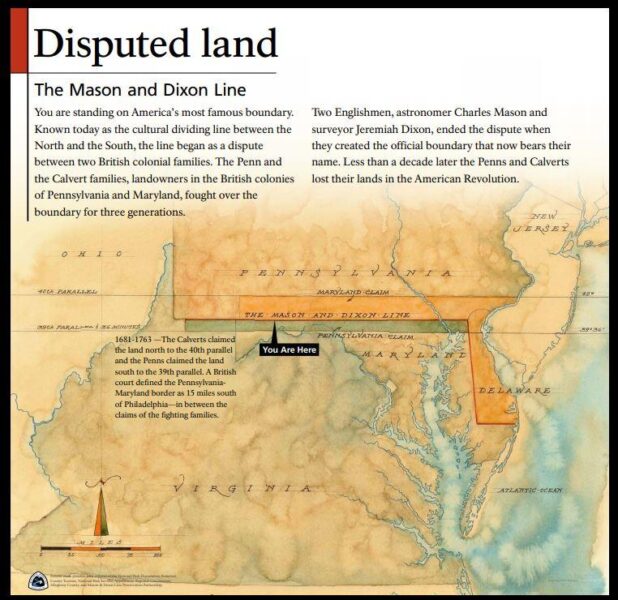 The replica obelisk and the cast bronze marker plate with the survey-chain and Mason and Dixon's signatures marks the line provide the photo op. Two wayside exhibits delve into the story. Prompting the trail users to stop and take in the exhibit are the granite blocks—impressive and ready for fun.
The site plan was developed by Stromberg/Garrigan & Associates, Shibaugh Memorials provided the granite and Fisher Remodeling the installation. In addition to the National Park Service funders were Somerset Trust Company, Allegany County, MD/Mountain Maryland Trails, Somerset County Pennsylvania Tourism Grant, ARC/Maryland Department of Planning, and the Robertshaw Charitable Foundation.
For more information visit:
https://en.wikipedia.org/wiki/Mason%E2%80%93Dixon_line
Author: Sandra Finley
Meet the people