"[The Great Allegheny Passage] just made my life and the work so much more energetic and creative and exciting than just dealing with this […] mound of paperwork. […] It was sort of like my vacation, you know? It was really-and, again, [Linda M. Boxx] sold me on it from the very beginning. But, it was something that, […] again, I can sort of hang my hat on…"
-Larry Williamson, April 12th, 2019[1]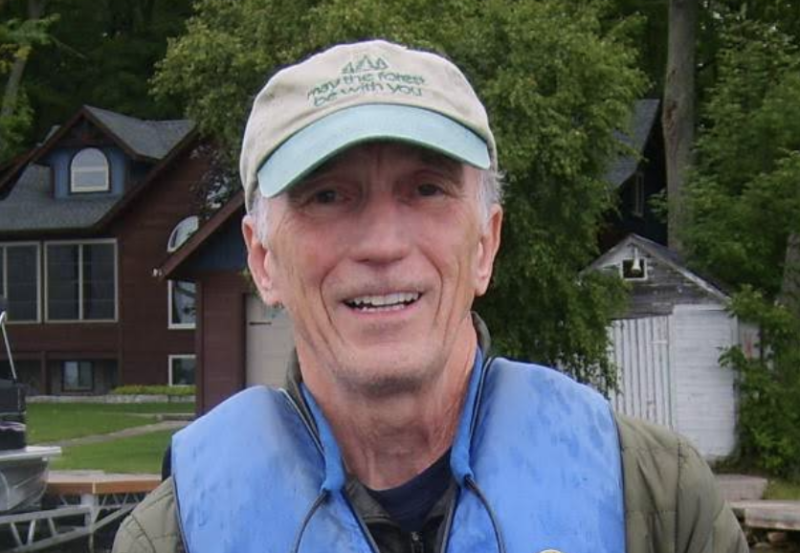 The Great Allegheny Passage (GAP), like any project of large scope, required not only on-site development but a sizable amount of funding to complete. Larry Williamson was essential in securing state grants to assist in paying for the trail's development. After graduating from Penn State in 1969, Williamson joined the Pennsylvania Bureau of Recreation and Conservation where he worked as a planner and grant administrator.[2] He was primarily hired to help facilitate the Land and Water Conservation Fund, and eventually transferred to the then-newly formed Department of Conservation and Natural Resources (DCNR) in 1995 to continue making grants and distributing state funding for worthy nonprofit and recreational programs.[3]
Williamson began thinking about recreational trail development after what he called "the napkin meeting." In the early 1990s, over drinks at a Harrisburg tavern, Ed McMahon from the Conservation Fund, Anna Breinich from the Pennsylvania Environmental Council, and Joanne Denworth from the state governor's policy office sold Williamson on the idea of greenways and the raw potential greenways held for recreation projects in Pennsylvania as a whole.[4]
"[W]e had a Governor's Conference on Greenways and Trails in '97 and it was an eye-opener because of the amount of attendance that we had at that conference and the amount of interest in Greenways. Out of that conference came a Governor's Greenways Commission. […] And, from that Greenways Commission, we developed the Greenways Action Plan in 2001."
-Larry Williamson, April 12th, 2019[5]
Williamson worked hard to gather as much state funding as he could from DCNR, firmly believing in the concept of "Mega Greenways" that could connect communities and counties all across Pennsylvania. DCNR began to construct a database that inventoried all of the Interstate Commerce Commission rail abandonments from the 1960s to the 1980s so that nonprofits and trail groups could keep track of land parcels and their ownership.[6]
Williamson played a pivotal role in helping to complete the Big Savage Tunnel. He was Deputy for Conservation and Technical Services and had access to the Bureau of Facility Design and Construction, which dealt with most state park construction processes. In 1997 the director of that bureau, Gene Comoss, and his colleague Jim Epply informed Williamson of the availability of around $9 million dollars in the capital budget that was yet to be used: sparking the process of how to get that money into the GAP trail project.[7]
Funding for the GAP, particularly the expensive rehabilitation of the Big Savage Tunnel, took some creative thinking. There was Transportation Enhancement Act (TEA-21) funding available for trail building, but because of TEA-21 regulations all infrastructure built with that money had to meet certain engineering standards that were optimized for highways, not trails. To make the tunnel compliant with these standards would be prohibitively expensive, and the Allegheny Trail Alliance (ATA) thought they would have to forego the TEA-21 money. Williamson came up with a great solution. Pine Creek was being constructed in the state which was scheduled to use money from the Landowner Conservation Fund, a subset of the Land and Water Fund, and TEA-21 funds. That meant Pine Creek was already building to TEA's specifications. Williamson was able to 'swap' $2 million in TEA-21 money for $2 million of the Landowner Conservation Fund money for the Big Savage Tunnel project — which had no engineering requirements.
"John Oliver met with Brad Mallory and I was at this meeting and I said, "Well, we need this extra money. We're still needing money to get this done." And, Secretary Mallory said, "I could put some TEA [Transportation Enhancement Act] funding into it." And, I said, "We really don't want any TEA funding because we're not engineering [to the specifications required] for a TEA project." […] But, the idea was that you were developing [the Pine Creek Trail in north-central Pennsylvania] with TEA funding, but you also had landowner conservation funding into that. And, if Mallory would transfer a million and a half [dollars] of TEA funding to Pine Creek, you would take a million and a half- or $2 million out of landowner conservation and put it towards the tunnel."
-Linda M. Boxx, April 12th, 2019[8]
Williamson did face adversity towards giving so much financial support and effort to the GAP trail project. However, Williamson saw the promise that the Great Allegheny Passage held for the general public. Williamson worked diligently to make sure funding made its way to the GAP project until its completion in 2013.
Ed Deaton & Larry Williamson 2019 Interview Transcript with Avigail Oren
Author: Reed Hertzler
Endnotes
[1] Larry Williamson (grant administrator and planner for the DCNR, Personal interview on helping fund the trail with colleague Ed Deaton), interviewed by Avigail Oren, April 12th, 2019, Transcript: "Deaton and Williamson," 35.
[2] Larry Williamson, Transcript: "Deaton and Williamson,"1-2.
[3] Ibid.
[4] Larry Williamson, Transcript: "Deaton and Williamson," 16-17.
[5] Ibid.
[6] Larry Williamson, Transcript: "Deaton and Williamson," 20.
[7] Larry Williamson, Transcript: "Deaton and Williamson," 24.
[8] Larry Williamson, Transcript: "Deaton and Williamson," 26.